NATURAL
Non Toxic, Clean, Fragrance Free and Natural ingredients
VEGAN
Animal and Earth Friendly makeup products
NZ MADE
Proudly designed and made right here in New Zealand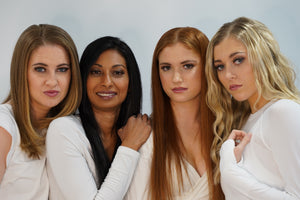 Concerned to buy makeup online?
How it works.
A quick colour consult and Melanie will personally help you select the shade that suits your skintone. .
Colour Consultation
"OMG I love the foundation its going to change my makeup and how my face feels... it went on perfectly"
Welcome to the World of Bedrock
Bedrock…the foundation for natural beauty.
Bedrock is a professional innovative range of natural, vegan and cruelty free cosmetics designed and made in New Zealand.
Precisely Formulated with clean and natural skin loving ingredients that will nourish your skin. Included is Vitamin E - a powerful antioxidant with Jojoba and Olive Squalane - to reduce the signs of aging and boost cell rejuvenation.
The essence behind Bedrock cosmetics is just like bedrock found in nature, a true, honest and natural product. The very basis found at the very core of our earth. We have taken great care in designing and selecting every ingredient to be clean and toxic free makeup that can give you relief knowing your beauty products will not be causing harm to our world or to yourself empowering you with the knowledge and confidence for your beautifying routine.
Bedrock Makeup is proud to be inclusive and gender neutral. Uniquely formulated to blur out imperfections while enhancing your skin's natural beauty. Our range combines cutting edge formulations that are vegan, natural, fragrance and cruelty free. Intelligently designed to be lightweight, protecting, healing, luxurious and professional. Created to have a buildable coverage that lasts! Even better is the fact that it is hydrating and rejuvenating while on your skin, so it is helping you on a cellular level while you go about your day.
Here at Bedrock by Melanie, we are excited to release a range of high performing and sustainable cosmetics designed to give you the freedom to create your own natural look and enhance your skin with a professional high-end finish. We promise to be as ethical as we possibly can and encourage less plastics as much as possible, so when you choose Bedrock you know you're making a conscious decision in helping to protect our beautiful landscapes, oceans, waterways and forests for our future generations.